Meet the Novi Stars Alien Dolls From MGA
MGA Entertainment is the toy company that makes Bratz dolls, Lalaloopsies, Moxie Girls and Moxie Teenz, and also owns the Little Tikes line of toys. One of their most recent doll creations is Novi Stars. They are a group of 6 alien robot girl friends that have traveled through the galaxy all the way to Earth to make friends and teach earthlings all about their cosmic glitzy fashion styles. These dolls are wildly popular right now. They each have their own unique personality and story so be sure and read their bios on the back of the box to help you decide which you or your child will like. Or just buy them all and make everyone happy. The 6 original dolls were introduced in August of 2012. Their intergalactic names are Una Verse, Cici Thru, Alie Lectric, Nita Light, Mae Tallick, and Ari Roma. Each doll has special features to capture the imagination of Earth girls. And they each have a little robot pet that came along to keep them company. Since then there have been more versions of these cute cosmic characters and a few more friends. To learn about the Novi Stars Dolls character qualities read the summary reviews below.
Cici Thru Novi Stars Stellar Skinz Doll - Her Outfits Are Skins You Take On And Off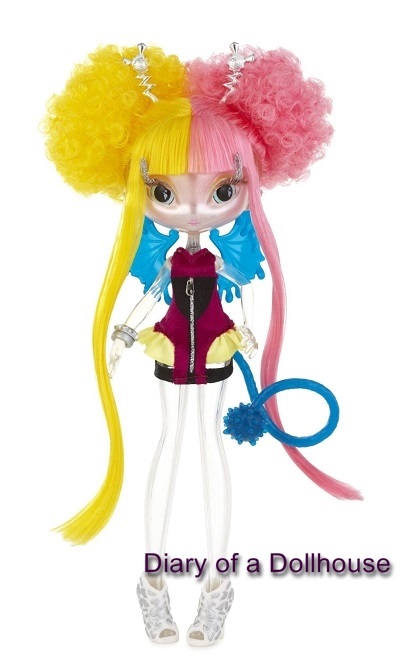 Cici Thru Novi Stars Stellar Skinz Doll - Available on Amazon
Cici Thru is the Novi Stars answer to the Bratz Switch a Witch and Monster High Build a Monster Line of toys. She has a bright pink and yellow wig that will be interchangeable with other Novi Stars doll wigs as they are released. Her body is clear see through plastic and her fashions are jelly shoe like skins that completely cover her body. Cici Thru has wings and a tail you can add to change her look.
Nita Light Novi Stars Energy Pod Playset
Nita Light and the Novi Stars Energy Pod Playset - Available on Amazon
Nita Light's Energy Pod is the perfect place for her to relax or take a nap. She floats around in the color changing LED lights and can light up the room. Nita has a translucent body and she glow too after she's been exposed to a light. She's got silver antennae and she wears a space age silver jumpsuit. She also brought along a pair of heart sprinkled headphones so she can listen to her favorite tunes or drown out noise while she relaxes. Nita would like to become a fashion designer.
Tula Toned Novi Stars Doll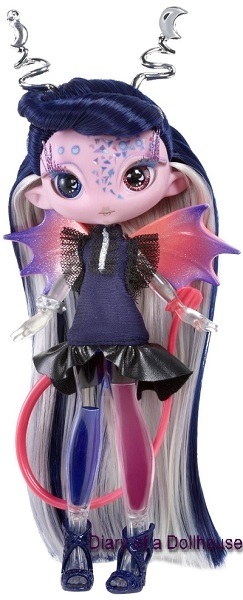 Tula Toned Novi Stars Doll - Available on Amazon
Tula Toned from MGA Novi Stars came to Earth around Christmas in 2012. She loves to fly around and explore. Tula is 5.5 trillion moon cycles old and lives with her other Novi Stars friends. She's got a colorful batty pet named Vortex that has big ears and two cute uneven antenna on his head. Tula Toned favorite food is Neapolitan Ice Cream. Tula Toned has a lilac face and one blue, one pink eye. Her body is transparent and her legs are filled with pink and blue cosmic goo that matches her eyes. She's got antenna with little moons at the tips, big detachable wings on her back, and wings on her ankles. She also sports a long pink tail with a dragon spike at the end. One of her most beautiful features is her long blue and white hair. Tula wears her hair in a spiked bangs, pigtails, and face wrapping braid style. Out of this world!
Alie Lectric Novi Stars Doll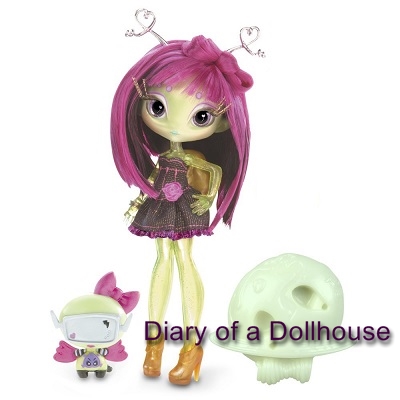 Alie Lectric Novi Stars Doll - Available on Amazon
Alie Lectric has an alien green complexion and pink/purple hair. Her eyes are also glittery and adorned with hearts. She lights up with delight in several colors when you push her backpack. She's got a cute pet named Hi Def to keep her company in her space travels. Alie wears pink flowery mini dress and her shoes slide into her doll stand. Alie wants to teach her earth friends how to think like a star.
Ari Roma Novi Stars Doll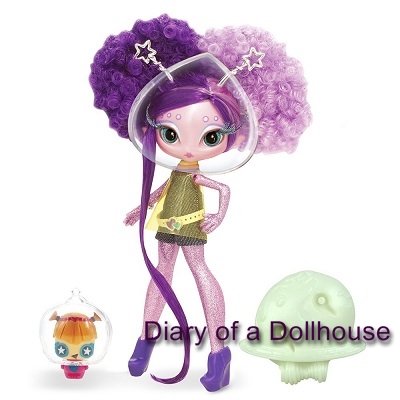 Ari Roma Novi Stars Doll - Available on Amazon
She's got stars in her eyes and a pink glitter body. Her pretty pink and purple hair smells like bubble gum. Both Ari and her pet O2 have cute removable helmets and she wears cosmic fashions. Like the other Novi girls she has a glow in the dark stand that her shoes fit in. She would love to kiss an earth boy while she's here.
Una Verse Novi Stars Doll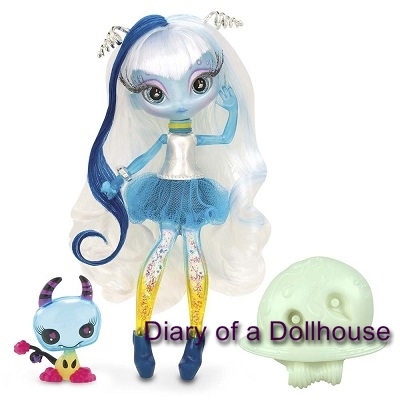 Una Verse Novi Stars Doll - Available on Amazon
Una Verse has legs filled with liquid and glitter. She shimmers and shines when she moves around. Her hair is long and white with blue streaks and she sports two curly antennas on her head. Her big glittery eyes have planet icons in the pupils and beautiful long eyelashes. She comes with a glow in the dark stand, a sparkly dress, and a little pet named Molecule. She would like to give all earthlings a space age fashion makeover.
Mae Tallick Novi Stars Doll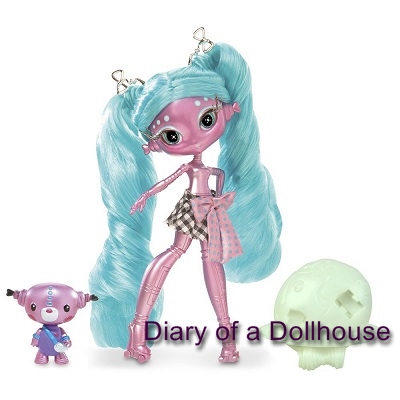 Mae Tallick Novi Stars Doll - Available on Amazon
Her pink skin and long blue hair are striking but her main feature is that she speaks. Her voice is robotic and is activated by a button on her ear. Like her name suggests, her body has a metallic finish and her bit eyes have long metallic eyelashes. Another very cool feature is her hair is a removable wig. Her cute pet companion is named 8-Bit. She brought along her roller skates and loves music. In fact she wants to become a pop music star.
Subsequent Novi Stars Dolls and Fashions
Since the original Novi Stars dolls landed on Earth there have been a few new versions and fashions created by MGA. There dolls have now spent their first day at the beach in the Orbit Beach Novi Stars Line.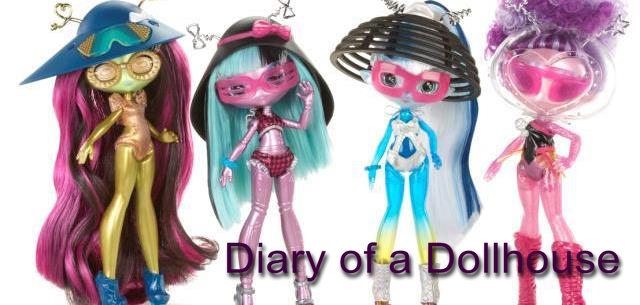 Novi Stars Orbit Beach - View the Dolls on Amazon
Here are the latest Novi Stars Friends from Out of This World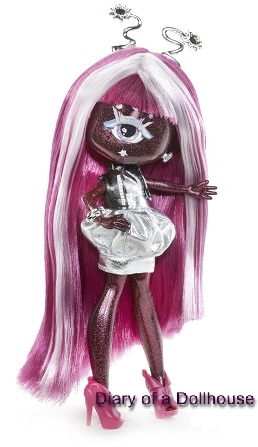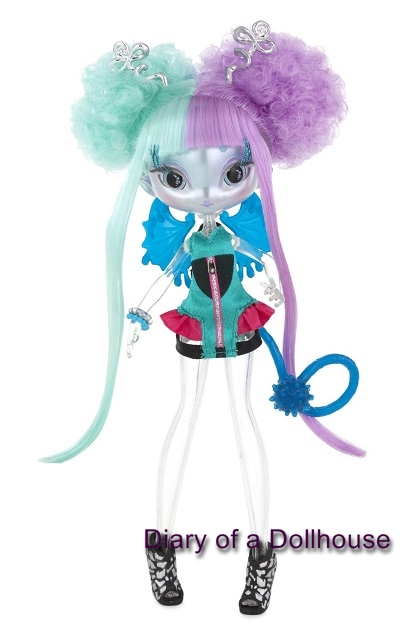 Summary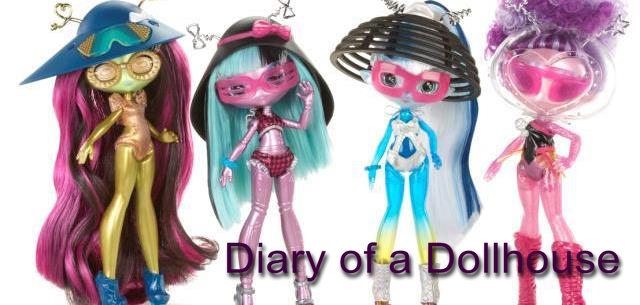 Article Name
Novi Stars Alien Dolls From MGA
Author
Description
Novi Stars are cute little alien dolls made by MGA Entertainment. Here is a compiled list of the dolls and their features.




Category: Novi Stars
Retired Florida CPA who loves playing with and collecting dollhouses and dolls.