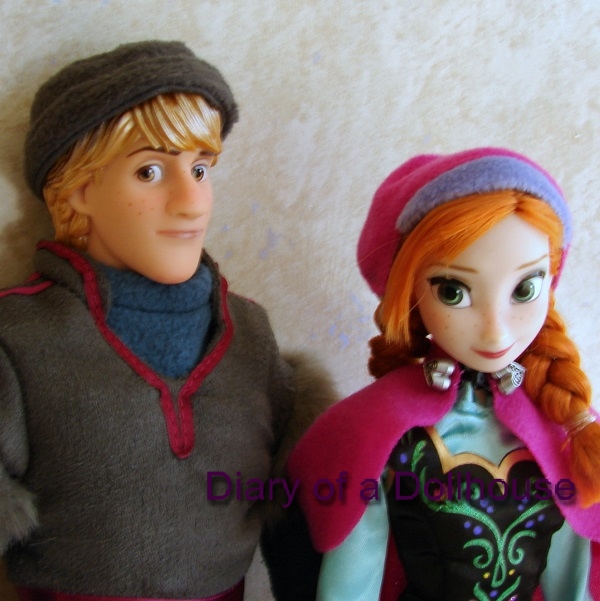 Yesterday I photographed and wrote about Elsa and Hans from the new Disney movie Frozen.  Today I'm introducing Princess Ana and Kristoff from the movie.  Like the other dolls I bought them from the Disney Store Online so they are the first official Disney version of the dolls.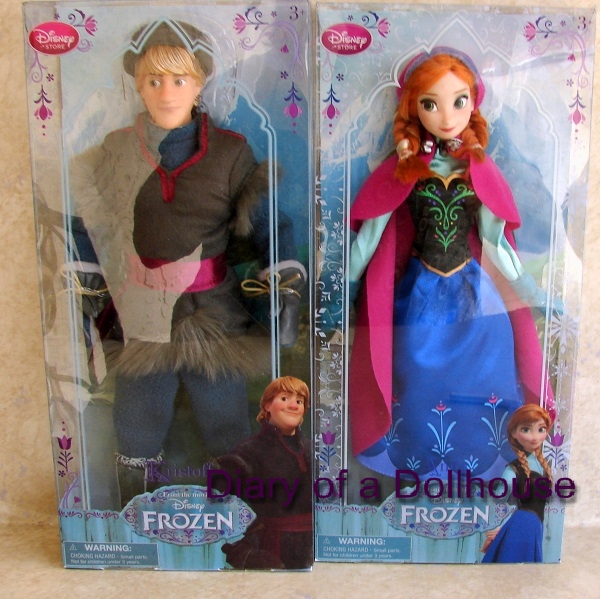 Ana is the 12th Disney princess and the main character in the new movie.  I'm not sure of the exact story line but from what I've read she is an eternal optimist that sets on a journey to find her older sister Elsa, the Snow Queen, and save the Kingdom of Arendelle from an eternal frozen curse.
Here's Ana right out of the box.  She looks so sweet.  Her outfit is very colorful and looks like an Alps mountain/Heidi-ish type design.  Perfect for the theme of the movie.  None of these dolls have a stand or brush, or any other accessories.  She doesn't stand by herself.
She wears a long fleece cape and hat to keep her warm.  One of her braid bands broke (my fault I was pulling it) so I had to replace it with one of my own.  Hence they don't match.  Kinda messed up her hair a little too.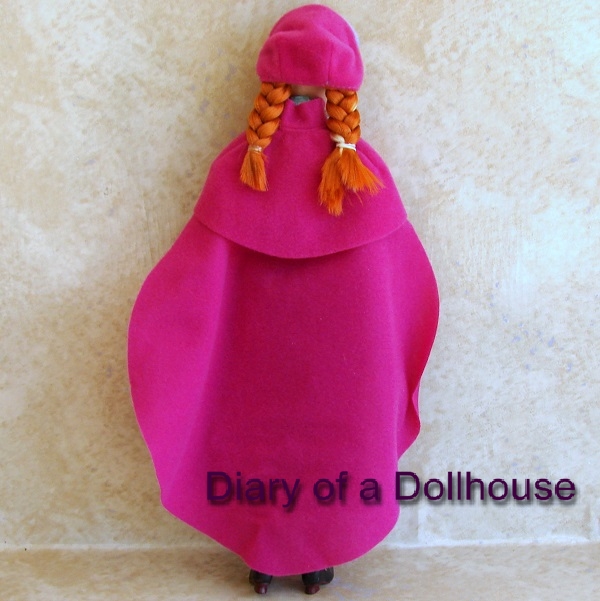 Here's an upclose of Princess Anna's face.  She's got big green almond shaped eyes with a little brown and green eyeshadow.  Her eyebrows are delicately painted on and match her red hair color. Her nose is swopped in a long shape and she's got cute freckles and a shy smile.  Like her sister Elsa she doesn't have any jewelry but she does have a silver colored cape clasp.
I took her hat off so you can see her head.  She's got a couple of streaks of blonde running through her hair.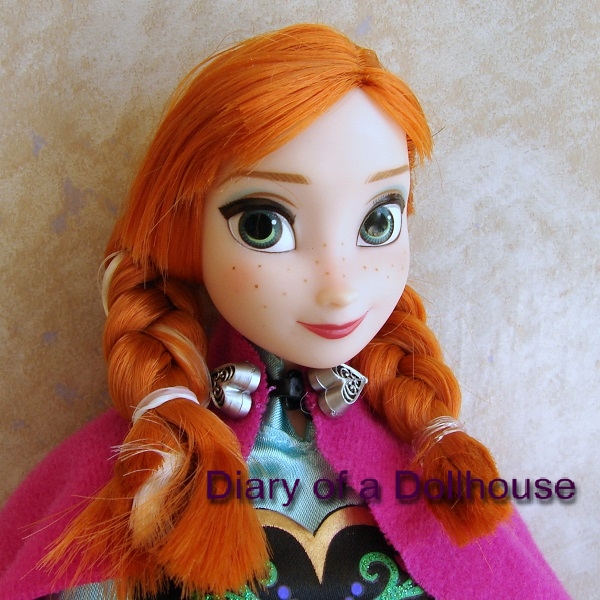 A view without the cape.  I didn't completely undress her. She has the same body style as Elsa except she has bright blue underpants painted on.  Her joints allow for a wide range of motion and she is a high quality play doll.  The fleece mittens are not attached to the dress sleeves so they come off easily.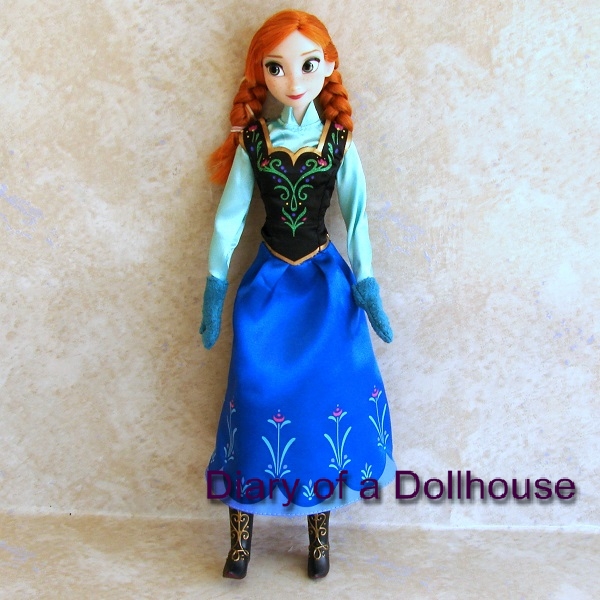 And a closer look at her boots.  They have a little paint run on them.  They come off and on easily with a long slit in the back.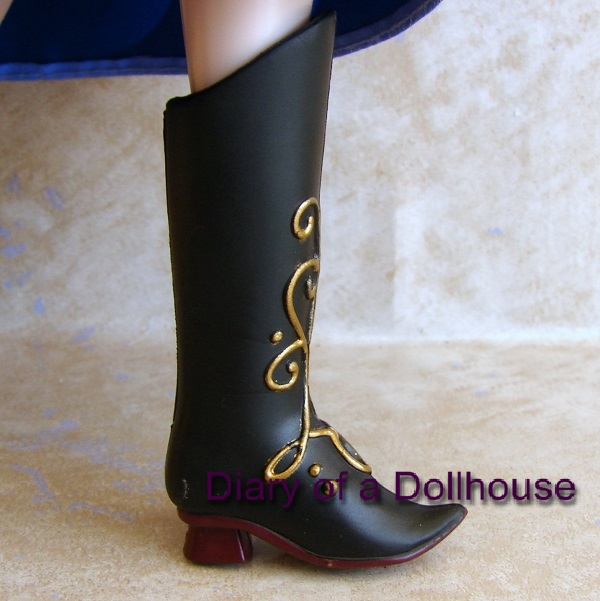 Now here's her friend Kristoff.  I assume they are a pair because their clothes are coordinating colors.  Is that stereotyping?  This is is character art on the box.  He looks very friendly and a little goofy.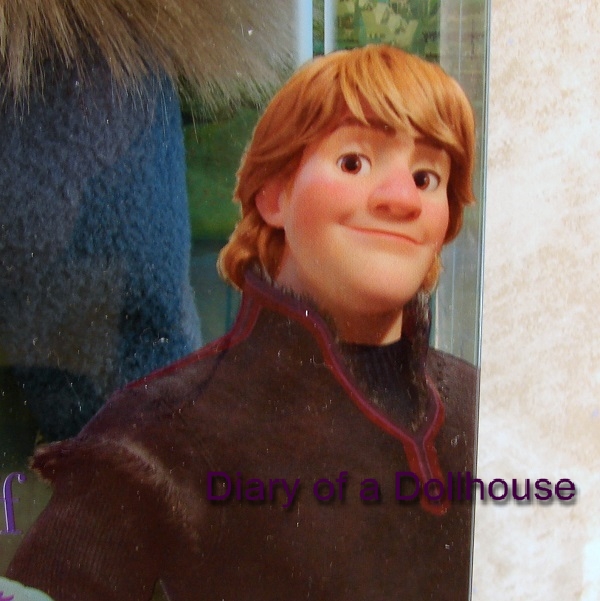 He wears really warm clothes.  I assume he's an outdoorsman.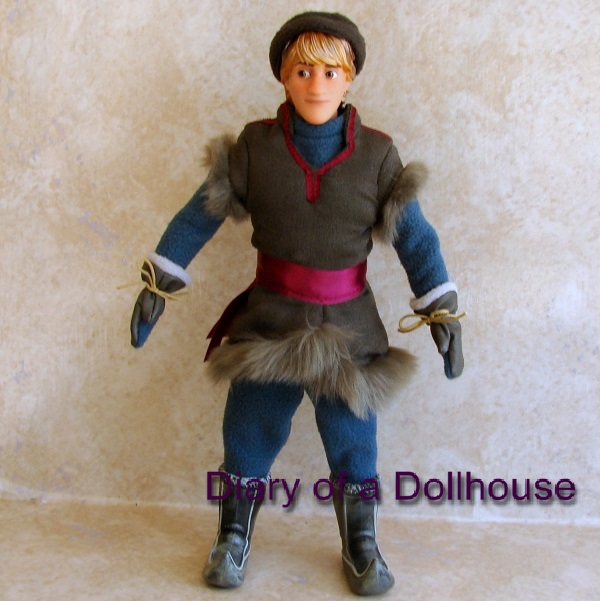 It appears he's wearing lots of layers but from the back you can tell the top is a one piece outfit.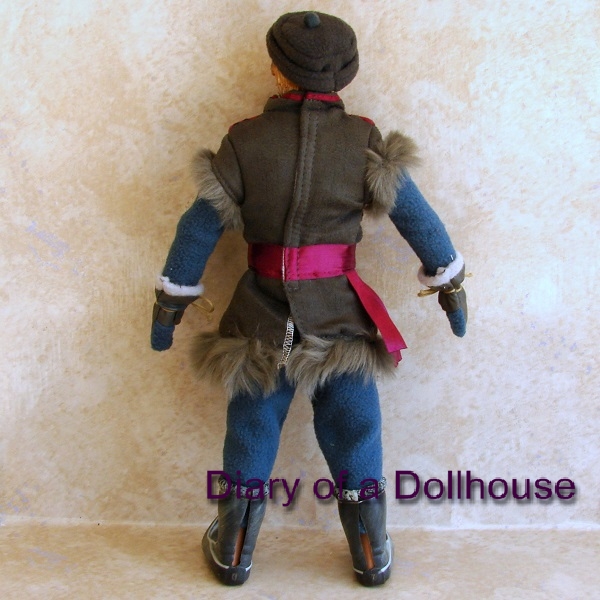 I also didn't undress him.  Sorry, maybe I'll do it later on. He's not as bendy as Princess Ana but can still pose in lots of great positions.
His mittens are pleather and fleece.  Very toasty.  And they come off separately from the over clothes.  They don't have to be untied to slip off.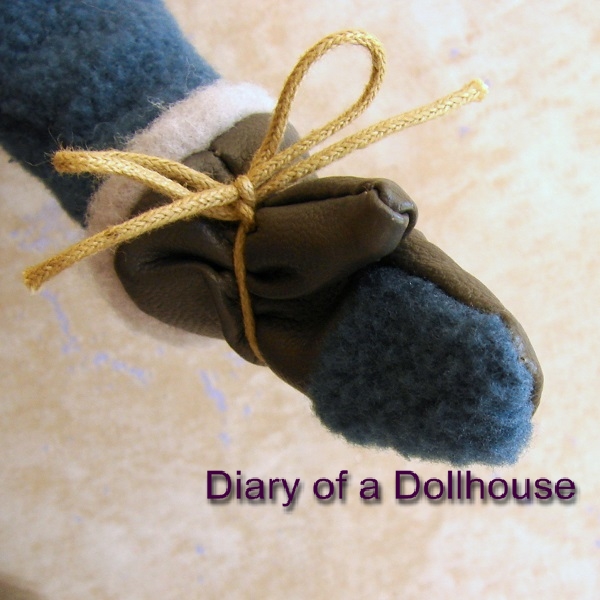 Kristoff has cute freckles and is the only one of the 4 dolls without a ski slope nose.  His eyes are a light shade of brown.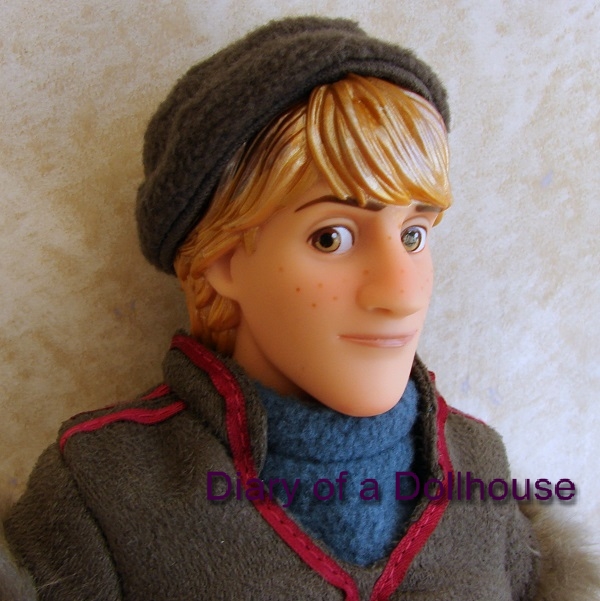 Kristoff's hair is molded light brown metallic.  I took off his hat and his hair is nicely detailed.  His expression looks like he's a little confused or worried.  Just a little.  I like that Disney gave these dolls lots of personality in their expressions.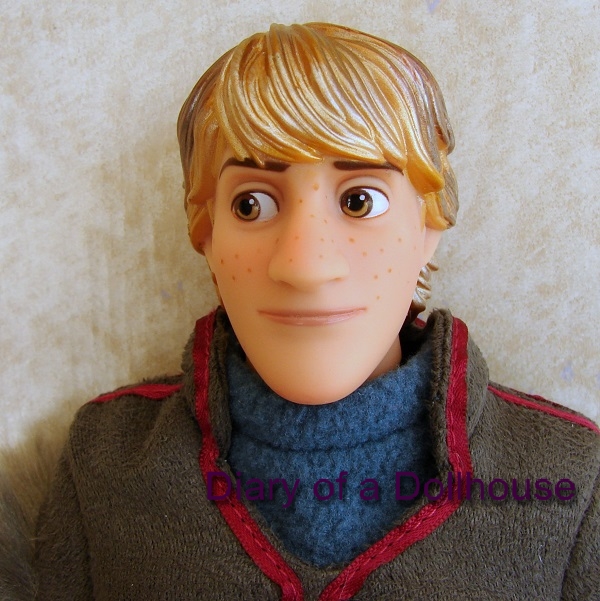 I guess you have to wear elf boots to effectively trek around in deep snow.  They look worn but the paint is supposed to be that way.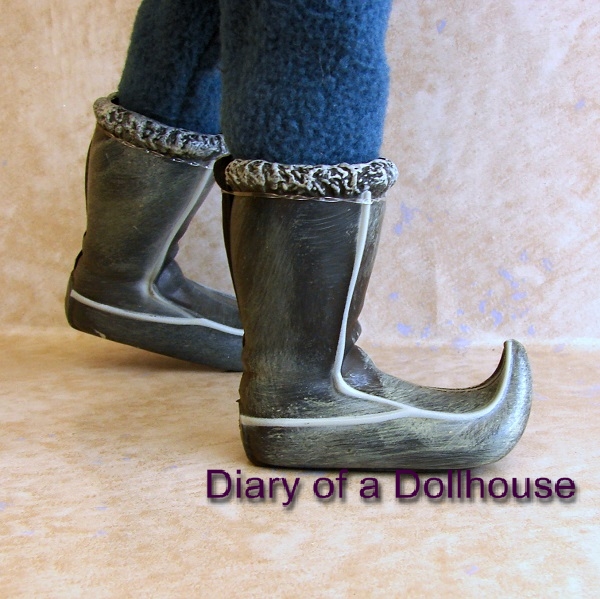 And here are Kristoff and Ana together.  Very cute couple.  I'm so impressed with my new Frozen dolls.  I cant' wait to see the movie.  Good thing I have grandkids to take.  Not that I need an excuse.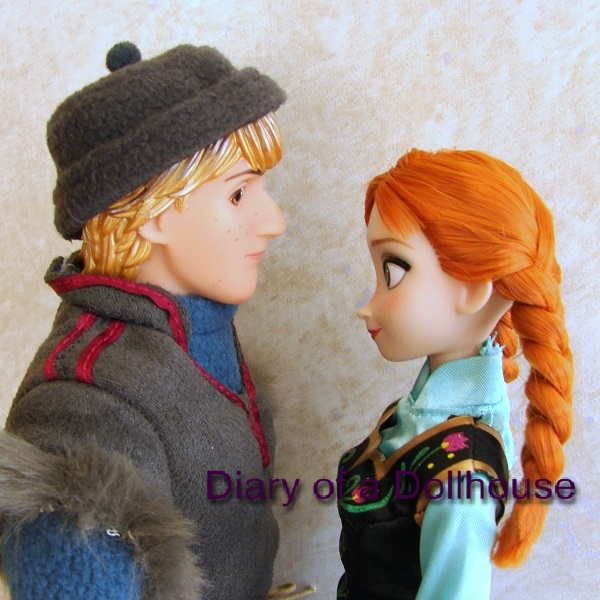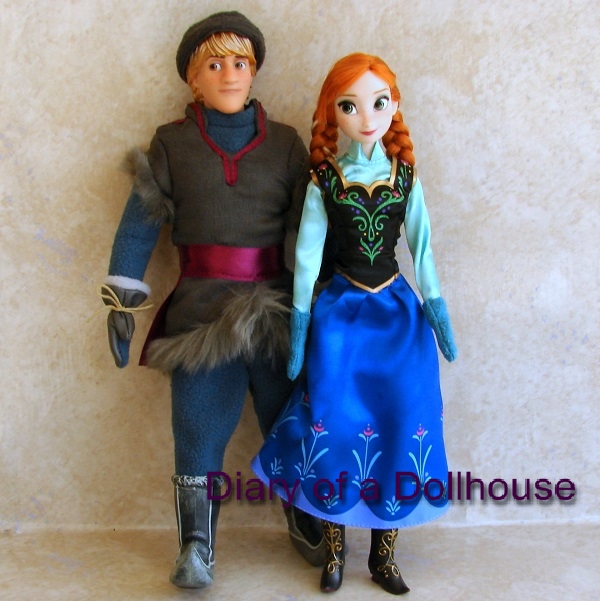 Summary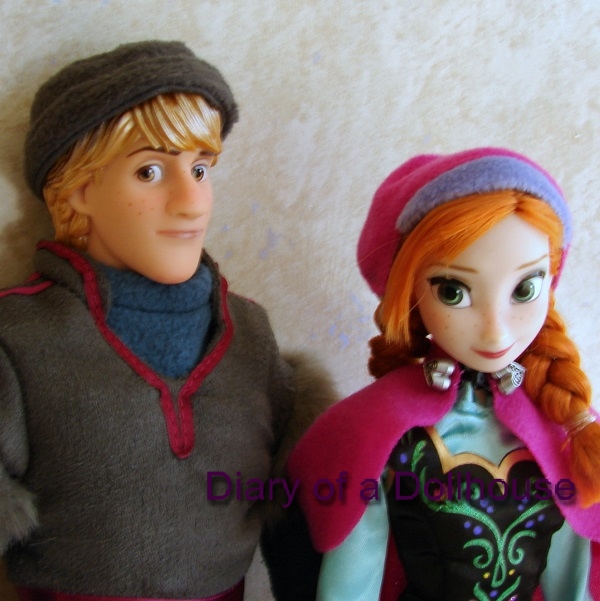 Article Name
Disney Frozen Ana and Kristoff Dolls
Author
Description
Meet Ana and Kristoff from the Disney Frozen movie. These are the first official dolls from the Disney Store Online.




Category: Disney
Retired Florida CPA who loves playing with and collecting dollhouses and dolls.