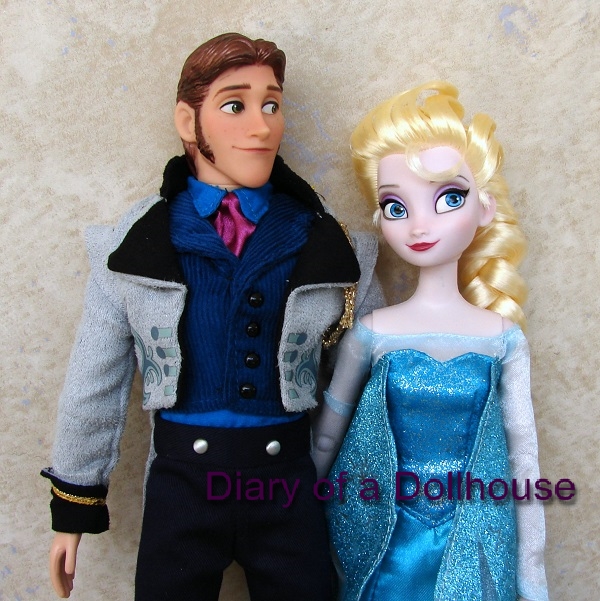 I'm so excited about the new Disney movie Frozen that premiers in theaters around Thanksgiving this year.  I've seen the trailers several times already when I've taken my grandson to different films.  Since I'm a doll collector I couldn't wait to get my hands on the Frozen dolls so I ordered them from the Disney Store website as soon as I saw they were available.  I bought all 4 dolls, Elsa, Hans, Anna and Kristoff.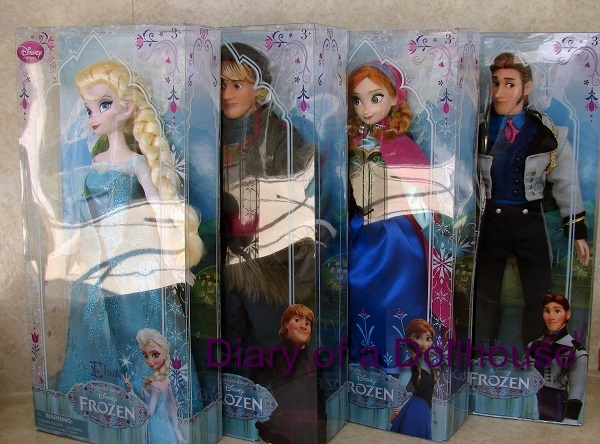 The movie is based on "The Snow Queen" fairy tale by Hans Christian Andersen.  I had the storybook as a child but I don't remember much about it so I'll wait and be surprised when I see the movie.  I know Elsa is the older sister and she has the ability to freeze things.  She accidentally casts a spell on her kingdom that turns it to ice.  I'm pretty sure Hans is somehow romantically involved with Elsa so I opened them together.  I'll open Anna and Kristoff in a few days.
Here are Elsa and Hans in their boxes, front and back.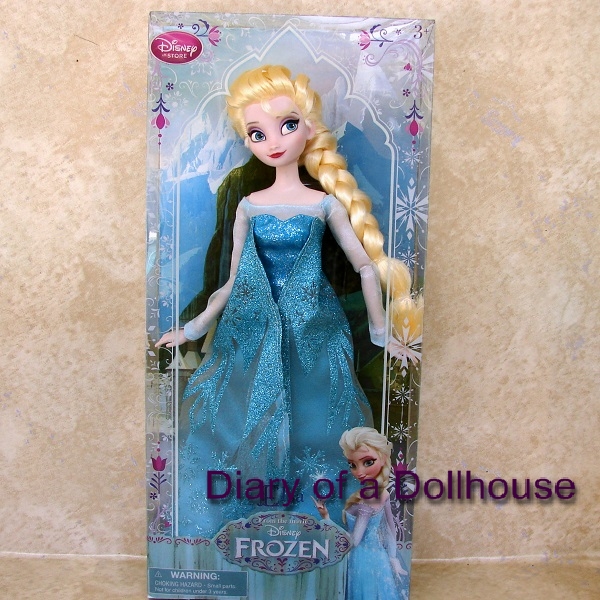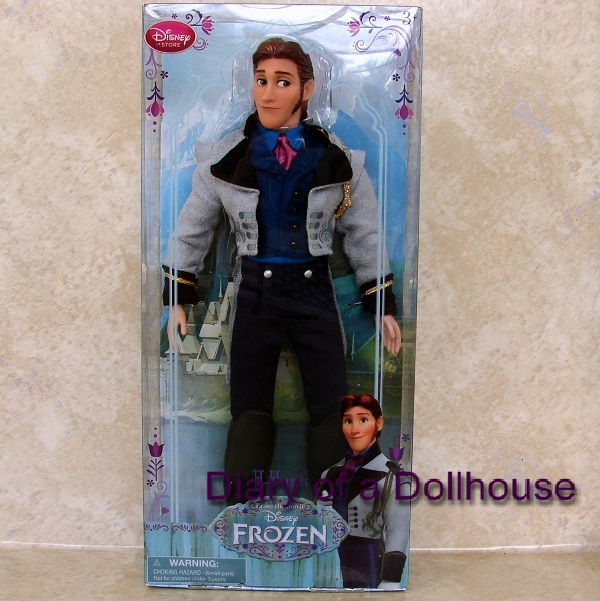 All the dolls share the same package back.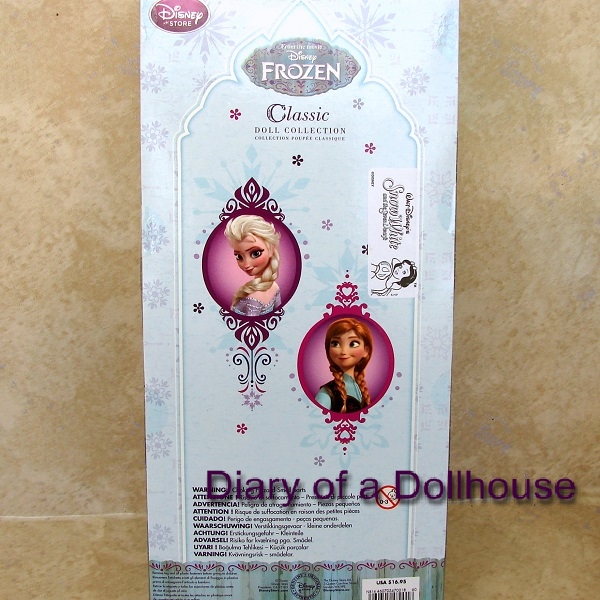 And photos of the doll when the box was opened but before they were detached.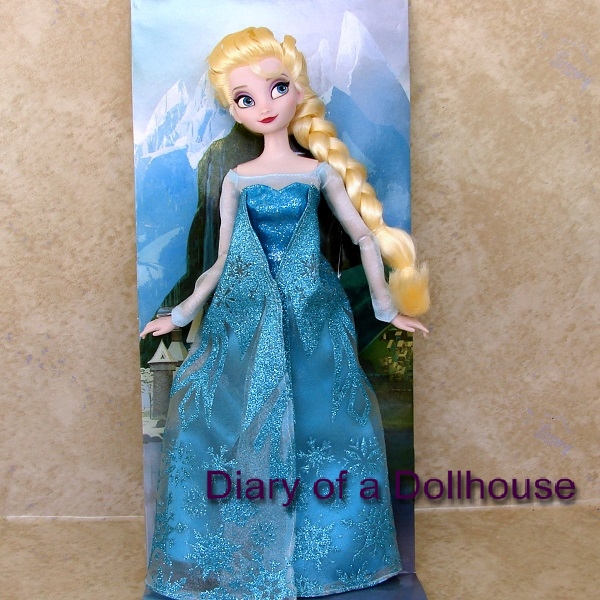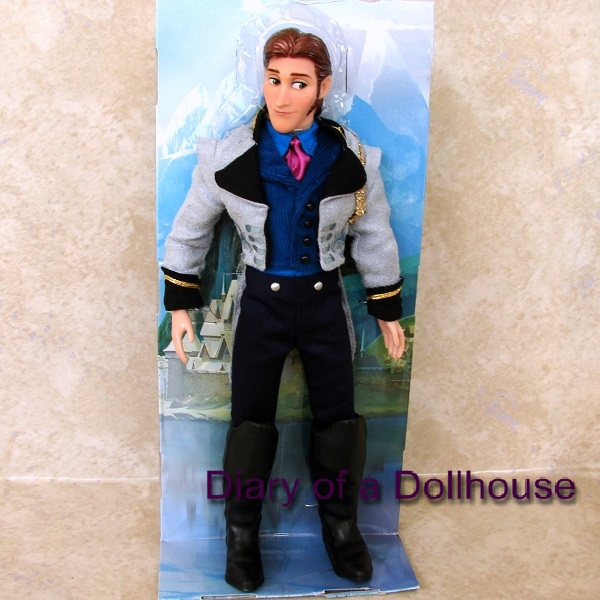 Right away I have to say I think these dolls are beautiful.  The facial features are clear and full of expression. Their clothes are well made with quality fabric.  Elsa is fully articulated and Hans, while not quite as poseable sill moves and stands easily.  Disney did a good job with them and I'm so happy I bought the original versions.  I know there is a Mattel Frozen line coming out soon, and I'm sure there will be various iterations of the Disney dolls so I'm hanging onto these since they are the first.
Here is some detail on the Elsa doll.  Her face is very pale, she's a Snow Queen after all.  It's heart shaped and she's got a sweet red lip smile.  She has painted blue almond shaped eyes with lavender and taupe eyeshadow.  Her eyebrows have 2 colors.  Elsa's hair is light blonde and has lots of styling product to keep the sweeping curls that pile high above her head.  She has a long braid that is rubber banded to her wrist on one side.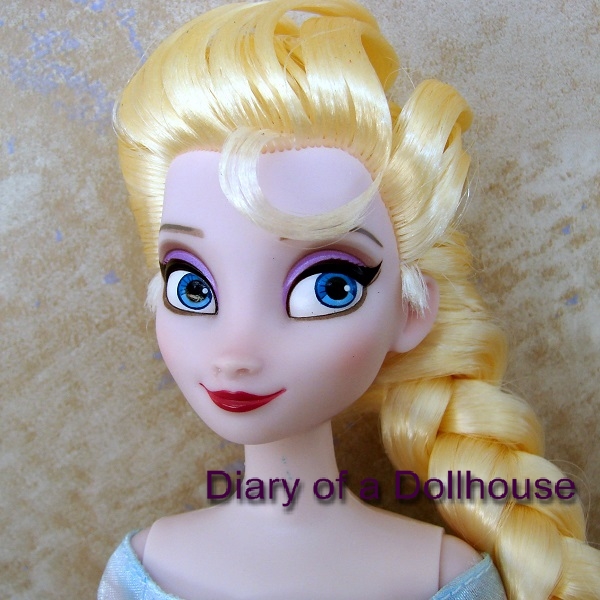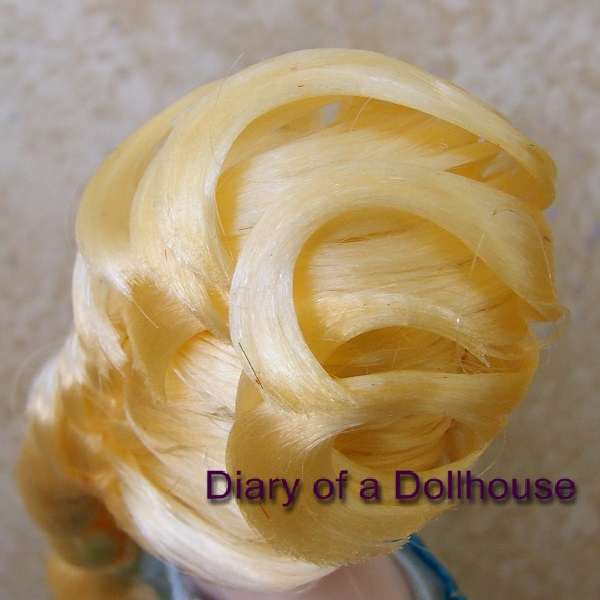 Here's a side view of her face, she's got a long sloped upturned nose.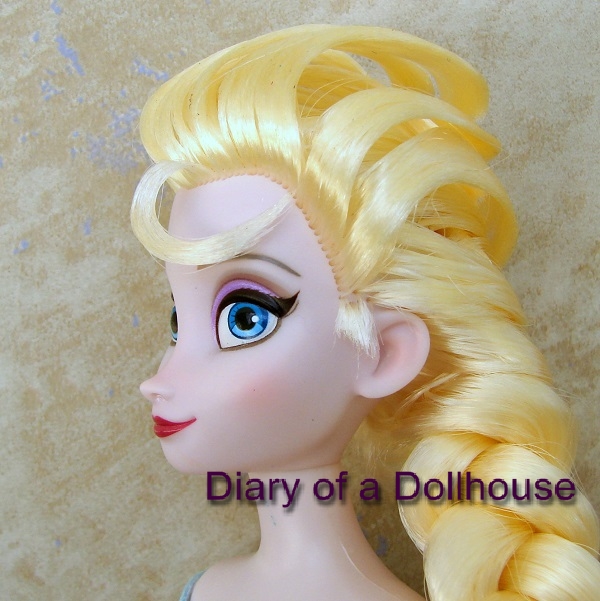 Her dress is very glamorous yet not too complicated.  It's icy blue with a glittery bodice and satin attached skirt.  She has sheer sleeves and a sheer cape with glitter snowflakes all over.  The glitter doesn't sprinkle everywhere when playing with the doll which is nice.  Her shoes are simple flats in a matching color. She doesn't wear any jewelry which is fine because her style seems to be understated elegance.  Elsa doesn't come with any other accessories or a stand.  Despite her flat shoes I couldn't get her to stand up on her own.  Maybe because her feet are small.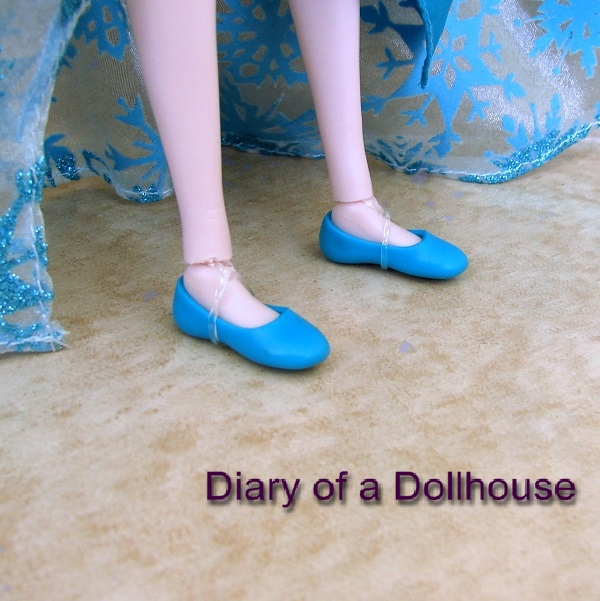 More photos of her from the front and back before we take a look at her joints.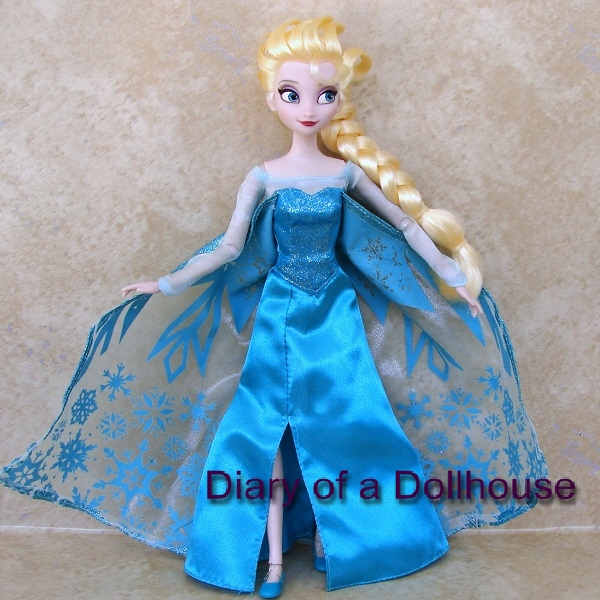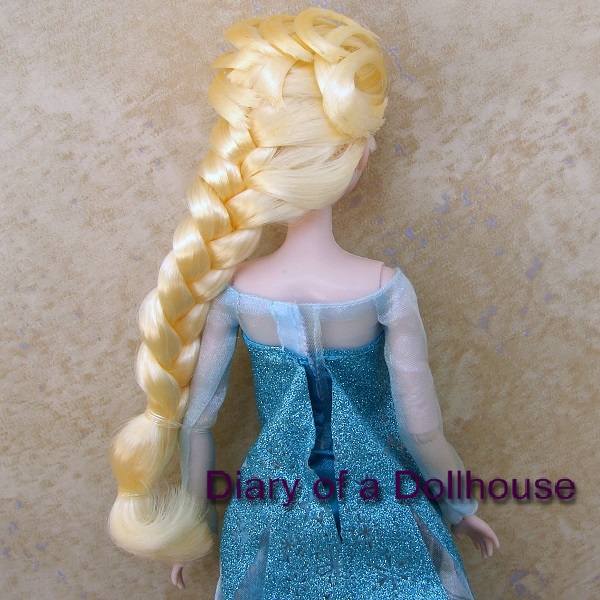 Here is her dress front and back. I love the color and style. It comes off very easily because of the Velcro back closure.  The sheer sleeves slide right over her hands.  It's easy to redress her too.  It's a perfect play doll for young girls.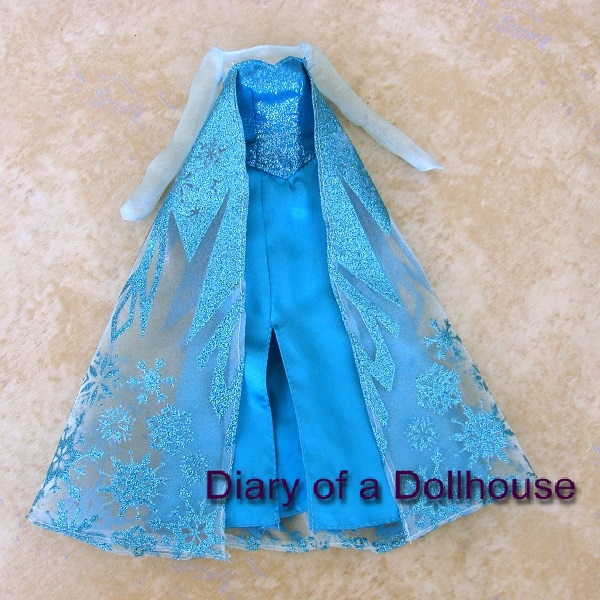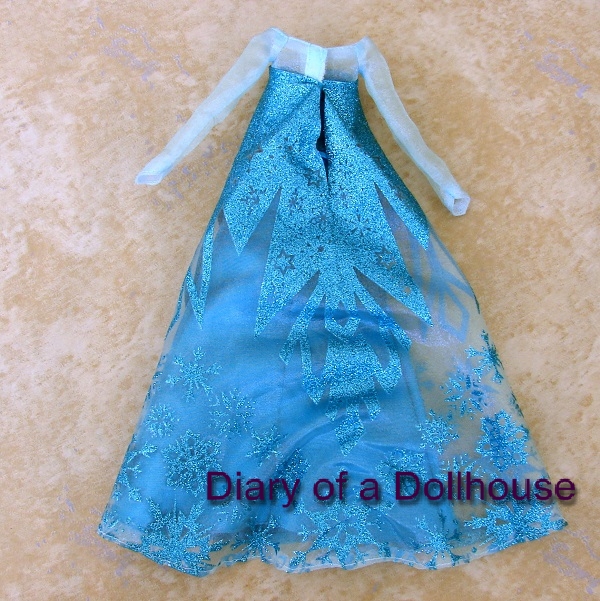 Now that her dress is off you can see her color coordinating painted underpants.  I decided not to remove her flat shoes so the rubber bands are still on.   You can also view all of her joints.  Her knees bend backward in one direction but her elbows, wrists, and ankles swivel, giving her the ability to do quite a bit of posing.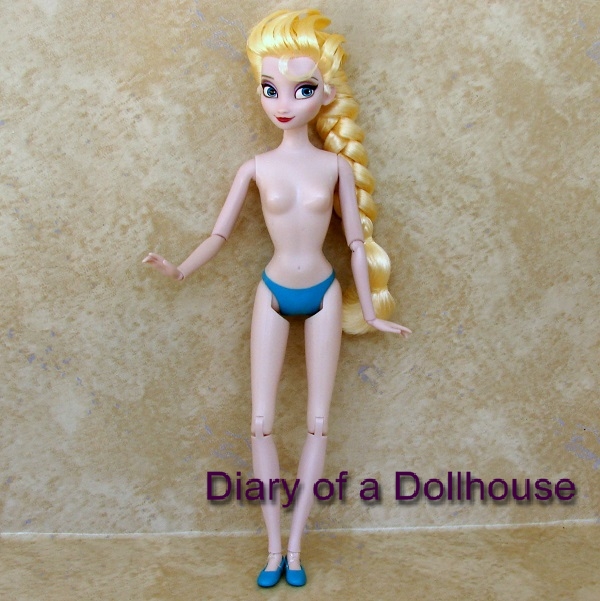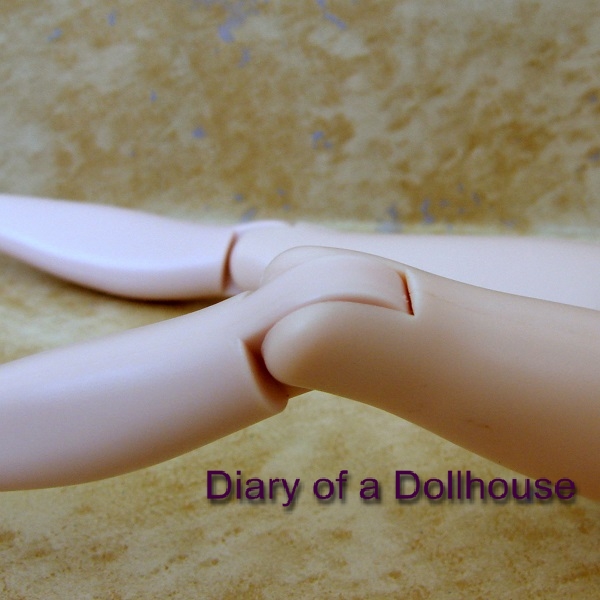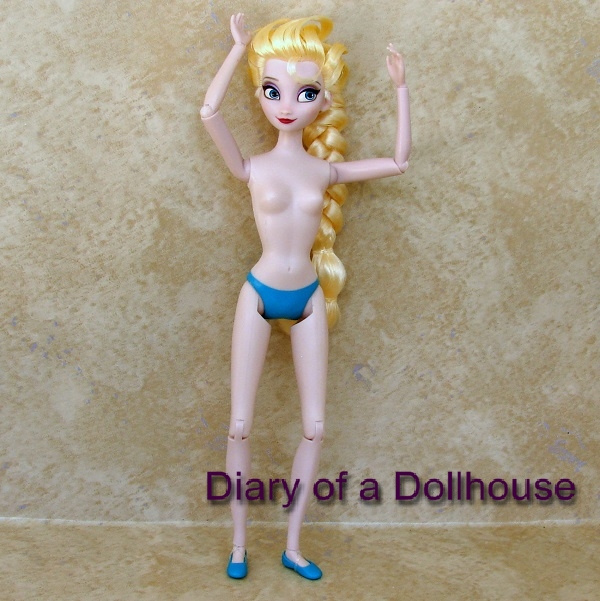 She seems like a very nice quality doll that can withstand lots of playtime.  She was anxious to have her beautiful dress back so she could enjoy watching Hans climb out of his box.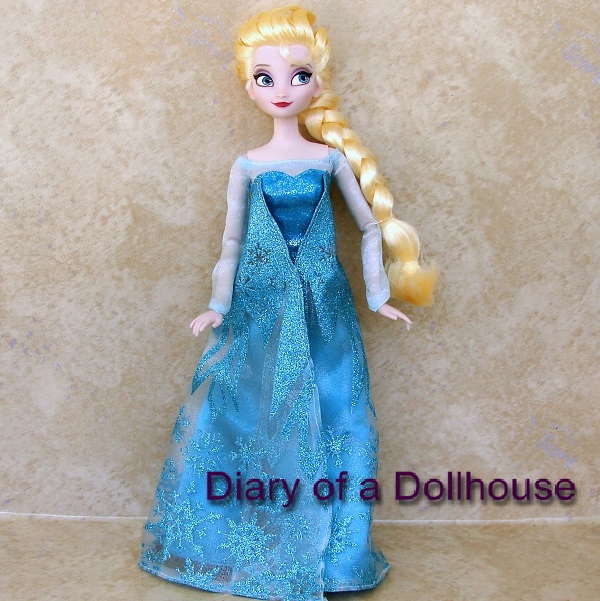 Here is a front and back view on Hans.  He's got much more color in his skin than Elsa.  His outfit is quite detailed with several layers.  The coat and vest are stitched on so I didn't take them off yet.  The pants and shirt are one piece and have a Velcro closure. I would have to snip the treads on the coat and vest to get to the Velcro.  Maybe I'll do that later but I wanted to leave him in his "put together" state for now.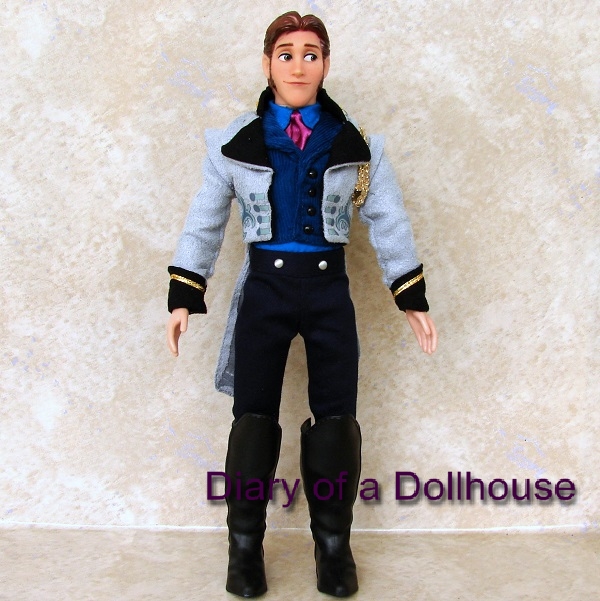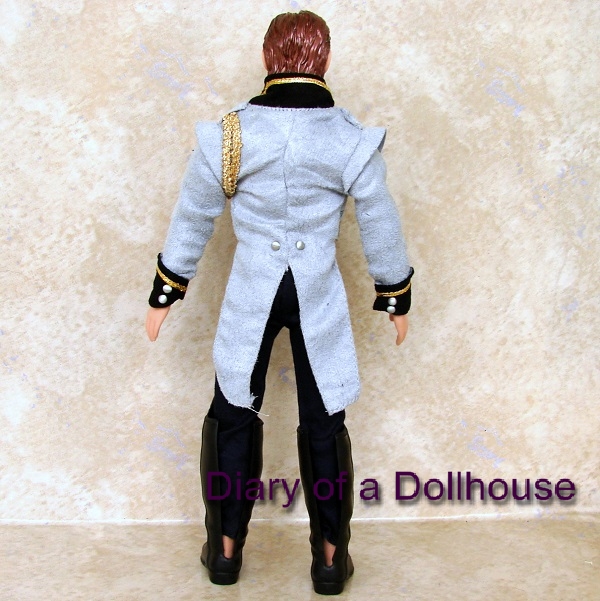 You get a more detailed view of his clothes from the side.  Notice the shoulder styling, stand up collar, and long tails.
Hans isn't quite as jointed as Elsa.  His neck twists and he bends at the neck, shoulders elbows, and hips. His knees have a click joint inside the legs.  No wrist or ankle articulation.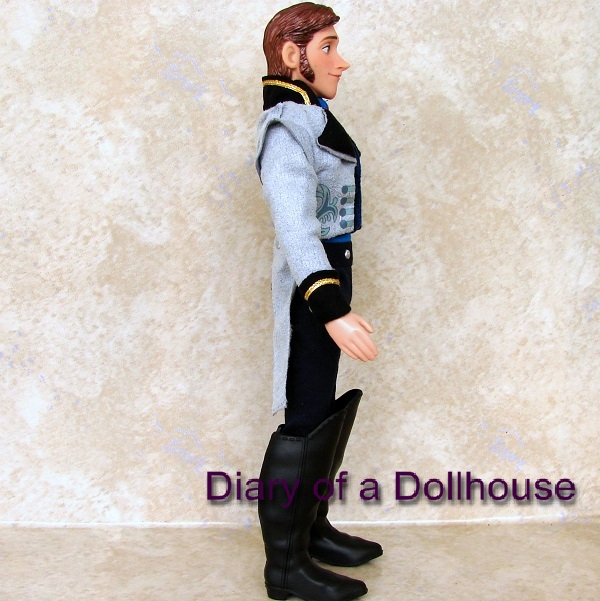 Hans has brown metallic colored molded hair and long sideburns.  He's got a freckled face. His eyes are green and he is looking to the side.  Probably at Elsa.  Notice the extra hairs in his eyebrows and his smirky smile.  Give him tons of personality.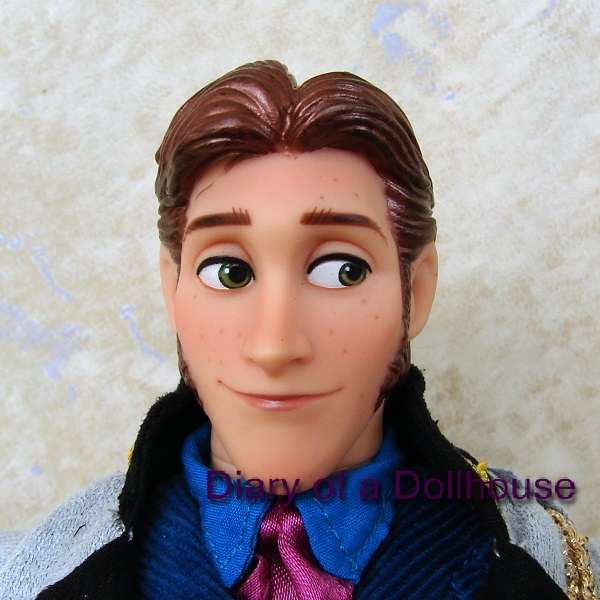 He has a long swooping nose too.  And a long pointy chin.  Also adds to the character of his facial expression.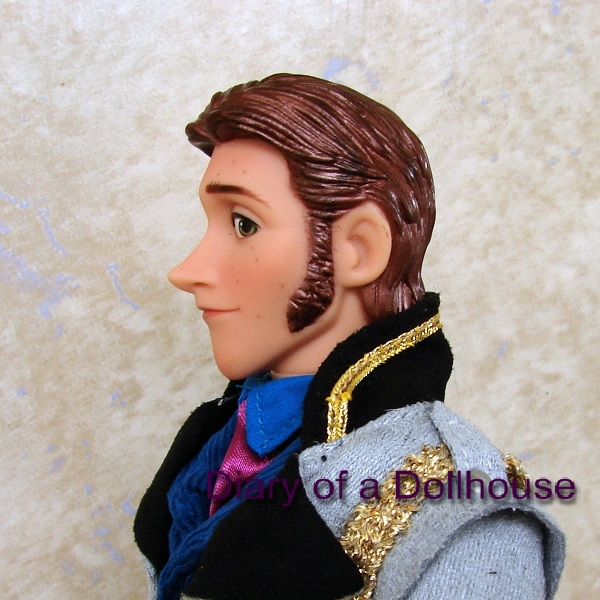 Man those are some big boots.  Must be for stomping through the snow.  They come off easily because of the big slit in the back.  And they allow him stand on his own really easily.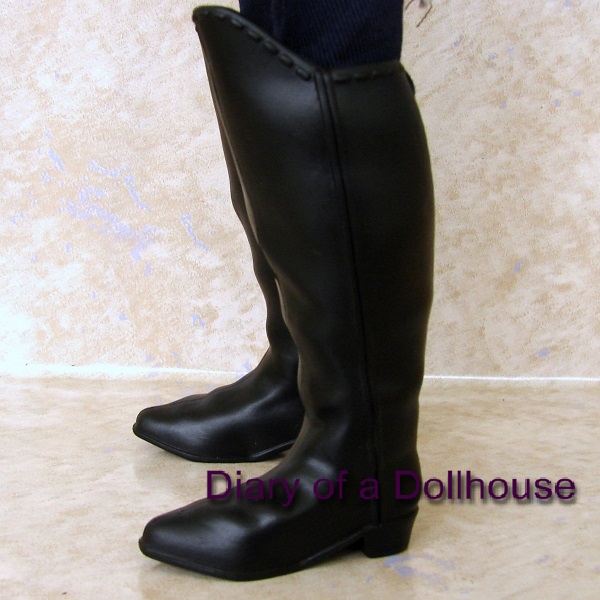 Another closeup of his attire.  You can see the little stitch that holds his layers in place.  The buttons are not functional, just for show.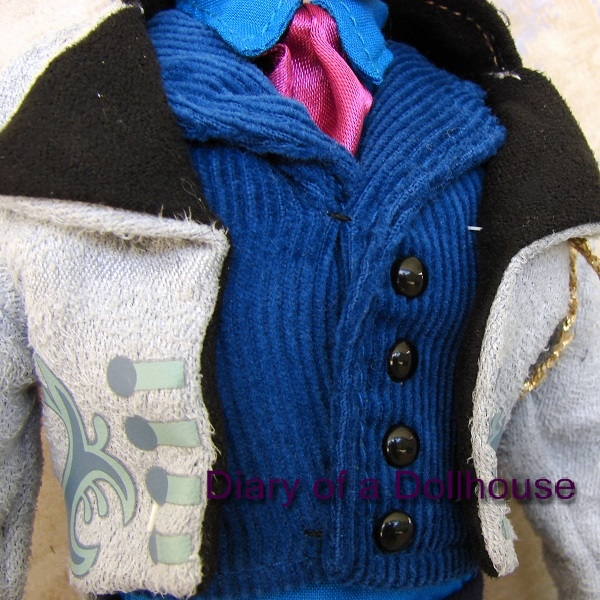 Here they are together again.  I can't wait to find out their relationship in the story.  I'll be one of the first in line at the theater this Thanksgiving.  Hope you enjoyed meeting Hans and Elsa the dolls and love them in the movie.  Check back soon for the Anna and Kirstoff de-boxing.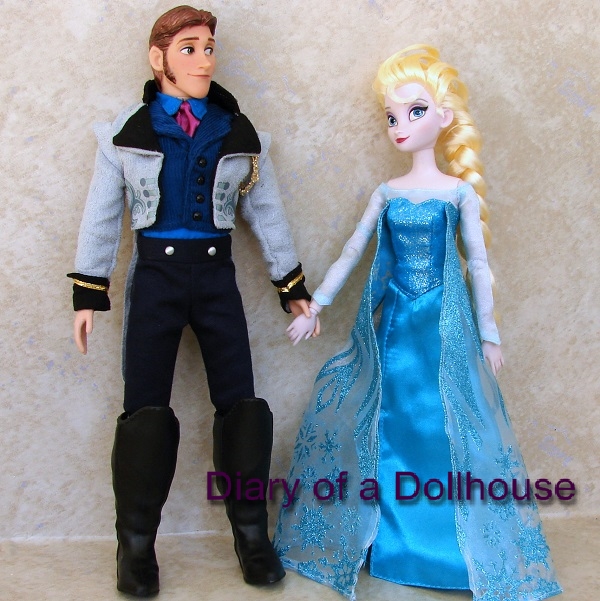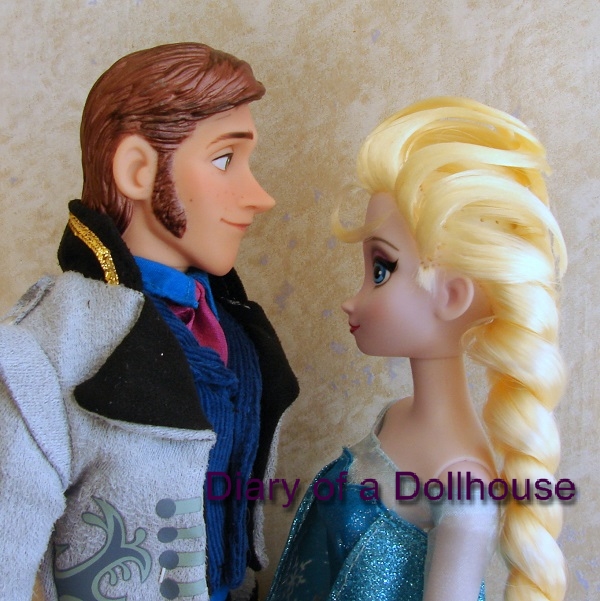 Summary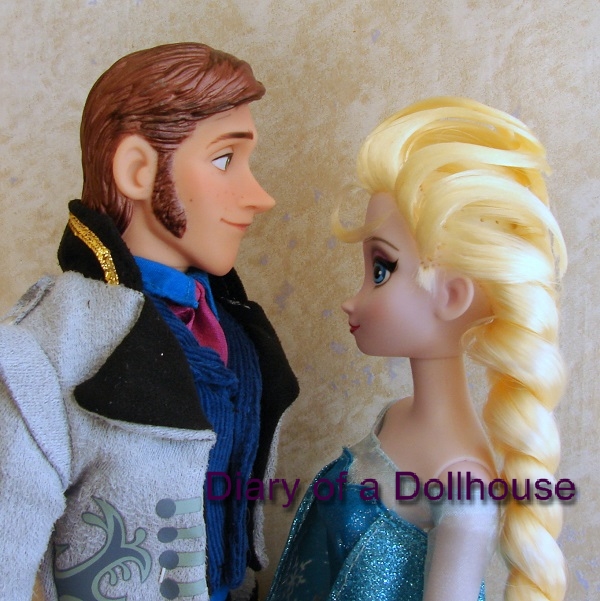 Article Name
Disney Frozen Elsa and Hans Dolls
Author
Description
I got my new Frozen dolls from the Disney Store Online today and opened up Hans and Elsa. They are magnificent. I can't wait for the movie.




Category: Disney
Retired Florida CPA who loves playing with and collecting dollhouses and dolls.