In honor of the upcoming Hallows celebration I thought I would share some of the creatively creepy dolls and dollhouse photos I've collected on my Dollhouses Pinterest board.
This haunted hollhouse is from The Haunted Construction Co.  It looks like they build haunted houses of all sizes to sell.  There are some really unique dollhouse ideas on this blog.
This creative Etsy artist takes old Playmobil mansion sets and makes Halloween haunted mansion.   Very clever.  I think I need some Playmobil skeletons right now.
A ghastly miniature dollhouse mirror featured on the Dollar Store Dollhouse Blog.
From Patricia Paul Studio Haunted Housewares website.  They have lots of creepy miniatures to custom order.
The Haunted Heritage doll house made the October 2014 cover of Miniature Collector Magazine.
A simple kit house turned into a witches retreat by Very Zurndorfer.
Potions, spell books and all the witchy accessories your lil haunted house will ever need, courtesy of the Etsy Dark Team.
And here are a couple of Haunted House You Tube Tours for fun.
Some of these are creative commons publications and some aren't.  I'm aware that it's a no-no to post someone else's pictures but I'm employing the ask forgiveness not permission method with links to the source, not to Pinterest. I also took care not to post pictures if they were all rights reserved on Flickr. If anybody who owns these is offended or disapproves of me borrowing them I will be more than happy to remove them.  just leave me a comment or email me via the contact link.
There I hope that covers my butt.  If not I may disappear forever into the internet sandbox.  Fingers crossed.
Summary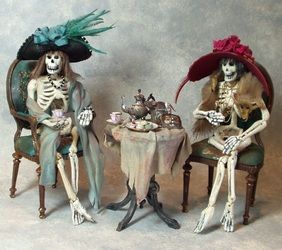 Article Name
Haunted Dolls, Dollhouses, And Miniatures For Halloween
Author
Description
A few pictures and videos of my favorite haunted theme dollhouses and accessories from my Pinterest board.




Category: Haunted Halloween
Retired Florida CPA who loves playing with and collecting dollhouses and dolls.