Playing Dress Up Dolls Is Fun At Halloween
Playing dolls is fun for almost every girl, whether you're a grown up collector or a mom looking for playthings for your youngster. And part of the fun is dressing them up. So when you start thinking about Halloween costumes and decorations, dolls come to mind. There is a vast selection of Halloween doll clothing on the market today, as well as fully costumed Halloween edition dolls.
For the collector Madame Alexander has beautifully dressed and detailed dolls all ready to go out trick-or-treating. And there are some limited edition Halloween Barbie and her sister Kelly dolls that are in demand with collectors.
Another favorite for young girls today is the American Girl series. And there are several companies that make some creative costumes to fit the American Girl. Also recently released Halloween Barbies are inexpensive and little girls love to play with them. I've selected some cute dolls and costumes on this site in order to narrow down the search.
Take Your American Girl Doll Trick Or Treating
Creative Costumes Made To Fit American Girl
 Elsa Sparkle Princess Dress for 18" American Girl DollBuy Now White Velvet Ghost Costume with Mask and Treat BagBuy Now Jazz or Cat Costume Perfect Fit for American Girl DollsBuy Now
Decorating With Dolls
Display Them Along With Seasonal Decorations
Halloween Charm Barbie Doll Collectors love to display their treasures and decorating with your dolls dressed in seasonal clothes is a great way to accessorize your home. Dress up your collectible dolls in Halloween costumes and you have an instant table or shelf decoration. Or put them in vintage props like old carriages or chairs. How about sitting a few on a table with a large bowl of candy so the trick-or-treaters can view them as they come to your door on Halloween night? There are lots of fun ideas to use your doll collection as Halloween decor. Get creative.
Barbie Loves To Dress
Collectible Barbies In Witch And Ghost Costumes
 Barbie 2012 Halloween Barbie DollBuy Now Barbie 2013 Halloween Barbie DollBuy Now Barbie 2014 Halloween DollBuy Now
Party Themed Kelly Collection
Kelly dolls were made from 1994 to 2011. Then they were replaced by Chelsea, Barbie's other little sister. You can still find plenty of Kelly dolls to collect at reasonable prices on secondary markets like Amazon and eBay. There were dozens of Halloween editions, most Target exclusives.
 Barbie Kelly Club - Nikki is a PumpkinBuy Now Kelly Halloween Party -Tommy is a VampireBuy Now Barbie Kelly Club - Melody is a TigerBuy Now
Both Barbie and Kelly are dressed in pumpkin style. Barbie wears black pants and a white sweatshirt with a pumpkin and kitten on the front, and Kelly is ready for Trick or Treat in her pumpkin costume.
Madame Alexander Collectible Scary Theme Dolls
The Madame Alexander company has been creating favorites for both children and adults since 1923.
The Wizard of Oz dolls are coveted collectors items based on the classic movie.  The Witch of the West doll comes with a satin appliqued dress, an black cape and hat, and that well known putrid green complexion we all remember from the classic movie.
This cute witchy Wendy has long blonde hair, orange eyes, and freckles. The set includes a plush cat.
A special edition 8" Madame Alexander doll dressed in a black, glitter spandex bodysuit that has black, pleather batwings sewn to the back of her long black sleeves. Her tutu looks like a spiderweb. So enchanting.
Living Dead Gothic Dolls
Scary Halloween Collectible Dolls That Come Packaged In A Coffin Shaped Box
Living Dead dolls are collectible horror theme dolls created by Damien Glonek and Ed Long. Together they created the first versions and began selling them at at horror conventions and through mail order. These beauties were "discovered" by Mezo Toy Company and are now have a loyal collector fan base. They are all limited editions and typically are released in sets of five around a particular Gothic theme.
 Mezco Toyz Series 24 Living Dead Dolls - Agrat-Bat-MahlahtBuy Now Mezco Toyz Living Dead Dolls Series 23 - AgathaBuy Now Living Dead Dolls Presents Scary Tales: The Big Bad WolfBuy Now
Do You Use Scary Or Cutsie Deocrations For Your Home At Halloween?
Summary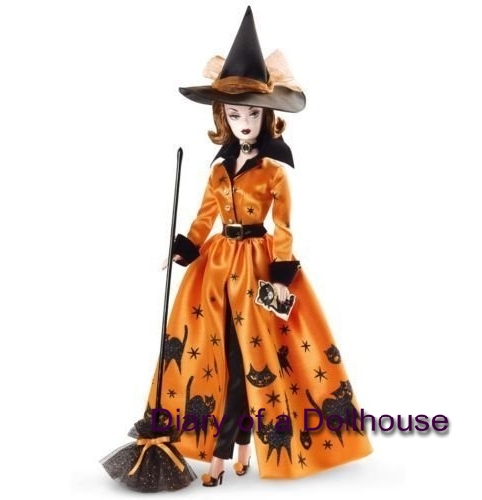 Article Name
Halloween Doll Costumes And Dolls
Author
Description
Halloween dolls and costumes for your dolls. For playtime, collecting, and Halloween decor. Take your dolls trick-or-treating with you.




Category: Haunted Halloween
Retired Florida CPA who loves playing with and collecting dollhouses and dolls.